Electrified future: The XV Hybrid and Forester Hybrid are the first steps toward Subaru's EV future.
THE future of Subaru is electric according to brand executives, who yesterday outlined their plans of having at least 40 per cent of all sales be made up of electric vehicles and hybrids by 2030.
Another goal that was outlined by president Tomomi Nakamura was to "apply electrification technologies to all Subarus sold worldwide" by the first half of 2030.
"At the same time, as we work to fulfil our social responsibilities, including the protection of the global environment, we will leverage Subaru's unique character and technological innovation to contribute to the creation of a carbon-free society," he said.
The announcements come just a month after the brand revealed its first two Australia-bound hybrids – XV and Forester – with news agency Reuters reporting Subaru would put their own twist on the Toyota technology.
"Although we're using Toyota technology, we want to make hybrids that are distinctly Subaru," chief technology officer Tetsuo Onuki said.
"It's not only about reducing CO2 emissions. We need to further improve vehicle safety and the performance of our all-wheel drive."
In the official press release following the press briefing, Subaru says it will stay true to its commitment of delivering "enjoyment and peace of mind" to its customers by evolving its iconic boxer engines and signature symmetrical all-wheel-drive system.
Looking a further 20 years down the line, the brand also hopes to reduce average well-to-wheel CO2 emissions from operating new vehicles sold worldwide by more than 90 per cent by 2050 compared to 2010 levels.
"Even in this once-in-a-century period of profound transformation, Subaru's strong commitment and dedication towards car-manufacturing that we have cultivated throughout our history remain unchanged," Mr Nakamura said.
"With the aim of making Subaru different from other brands, we will further hone the distinctive qualities that make a Subaru a Subaru, maintaining the unique attributes our customers have come to expect."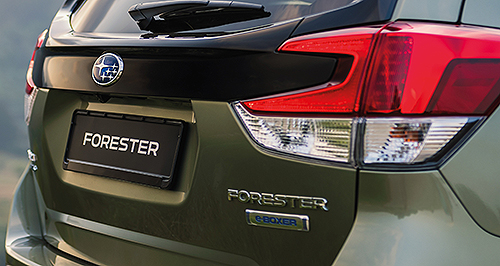 Rims, Mag Wheels & Tyres Online | Rims, Wheels & Tyre Dealer Australia by Shop your Wheels & Tyres Today